Split sports and top athletes
Is there something special in the air, or is it just our defiance which we call "Dišpet", we are not sure, but Split gave many world-renowned and top athletes. Besides calling it "The most beautiful city in the world" residents like to call it "The sportiest city in the world". With a long tradition of sports, Split spawned many champions.
The main soccer club is Hajduk, founded in 1911 and supported by a large Fan association known as Torcida, established in 1950. Slaven Bilić, Aljoša Asanović Igor Tudor, and Stipe Pletikosa are some of the famous Split natives who started their careers at Hajduk.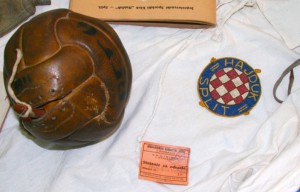 Basketball is also popular, and the city basketball club,  Jugoplastika Split, holds the record of winning the Euroleague three consecutive times (1989–1991), with notable players, Split natives, Toni Kukoč and Dino Rađa.
Split's most famous tennis stars are the retired Wimbeldon champion Goran Ivanišević, and Mario Ančić. Members of the local rowing club Gusar won numerous Olympic and World medals.
Swimming also has a long tradition in Split, with Đurđica Bjedov (1968 Olympic Gold Medal and Olympic record in the 100 m breaststroke), Duje Draganja and VanjaRogulj. Athletic champion Blanka Vlašić also originates from the city.
1979 Mediterranean Games, and the1990 European Athletics Championships took place in Split, and also, among other Croatian towns, hosted 2009 World Men's Handball Championship. Ivano Balić, two time IHF World Player of the Year is the most famous handball player to come from Split. Several waterpolo players during their careers have been considered the best in the World: Ratko Rudić, Damir Polić, Milivoj Bebić, Deni Lušić.
We also have to mention Stipe Bozic, the most successful Croatian Himalayan climber, second European, after Messner, to climb the highest peak in the world, Mount Everest, twice.
RK Nada were the pioneers of rugby union in this part of the World. They were by far the strongest club in former Yugoslavia and they are also by far the most successful club in modern-day Croatia. The first actual game played in Split was on Sept 9, 1978 . Today the Croatian national team (with 10 or more members coming from Split's Nada team) is ranked 25th in the world, ahead of Russia and France!
Baseball in Split is one of the city's longest traditions. Although the sport began semi-officially in December 1918 when a group of US sailors from a ship in port here introduced the game to some young Croats, it wasn't until 1972 when a pair of teachers at a local school formed the Salona Baseball Club.
Picigin is a traditional local sport (originating in 1908), played on the famous sandy beach Bačvice.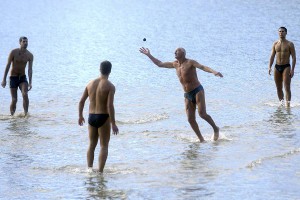 It is played in very shallow water (just ankle deep) with a small ball. Picigin is played by five players. The ball is the peeled tennis ball. There is a tradition of playing picigin in Split on New Year's Day, regardless of the weather conditions, in spite of the sea temperature rarely exceeding 10 °C.
Maybe you would like to take a walk trough the old town and take a peak into the mentality that made our fellow citizens best in their sports.