Continental Croatia meets the Adriatic in Istria, the heart-shaped peninsula. Inland full of rolling hills and fertile plains attract visitors to its ancient villages, rural hotels and farmhouse restaurants.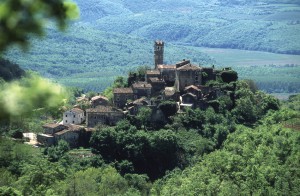 Heading inland from the Istrian coast, you'll notice that crowds dissipate, hotel complexes disappear and what emerges is an unspoiled countryside of medieval hilltop towns, pine forests, fertile valleys and vineyard-dotted hills. The pace of daily life slows down considerably, defined less by the needs of tourists and more by the demands of harvesting grapes, hunting for truffles, picking wild asparagus and cultivating olive groves.
Farmhouses are opening their doors to visitors looking for an authentic holiday experience, rustic taverns in the middle of nowhere serve up slow-food delights, and Croatia's top winemakers provide tastings in their cellars. Distant hilltop villages, that once seemed doomed to ruin, are attracting artists and artisans as well as foreigners. It's a world all its own – unique, magnetic and wholesome.
Things to do when in Istra