Jabuka  is an uninhabited volcanic island in the Adriatic Sea,  west from the island of Vis.
Jabuka  is actually very large, steep, 97 meter high cliff, pyramidal shaped, naked, brutal and almost completely inaccessible except for a small area on the southwest side, but only in perfect conditions, which is rarely the case. Placed in an area of the deepest sea, alone and away from other islands and channels, Jabuka is exposed to all winds, and in the open sea, even the weakest winds cause large waves. It takes a lot of knowledge and luck if you want to dock here.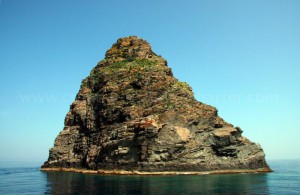 Solitary volcanic rock, Jabuka, lost in the wilderness of the open sea, looks as if it is some mystical world. A strange, dark monolith constantly whipped by the wind, forces a man to be bowed to the force of nature. All around Jabuka you can feel a special mystique, so even the gulls often avoid it. The color of the sea around Jabuka is extremely dark, almost black, enhancing the frightening  feeling.
Harsh and difficult to access, and its stones often sliding down steep cliffs, with visible signs of frequent landslides stand as a warning to all those who choose to ascend to Jabuka. The magnetite in Jabukas rocks cause the interference of radio waves, and it also makes compasses useless. When approaching storm, it is advisable to move away by boat, because its rocks tend  to attract thunder.
Jabuka is also known for endemic Jabuka black lizard, and three endemic plants. Nearbys Komiza residents have legends about the plant Jabuka carnation (Dianthus multinervis). Older fishermans advised the young not to pick it for their love ones back in Komiza as, according to the legends, the one who picks it, will die in stormy seas. Another legend says that the carnation was watered by the fairies from Velebit mountain. It was also said that once it vanishes, it will be the end of fishing in Komiza, and the carnation truly disappeared by the mid 20th century. Out of several fishing factories in Komiza in those days, none exists today… maybe it's a coincidence … or maybe a confirmation of the old legends…