A region of deep canyons and scrubby badlands, Paklenica National Park almost looks like it's been involved in some geographical mix-up – a chunk of the American West accidentally transplanted to Dalmatia.. Paklenica is one of Croatia's wildest corners – a remote stretch of the Velebit mountain range home to bears, wolves and wildcats, and a place whose remotest reaches were known only to roving shepherds until roads reached here in the 1950s.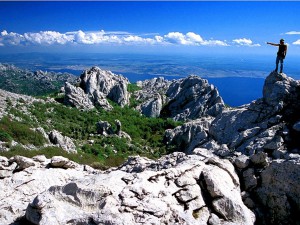 The air turns hotter and the terrain becomes harsher on the walk down Velika Paklenica, the jagged canyon that cuts squarely through the middle of the park.
Sunbeams reach across its sheer limestone walls and the path ahead wobbles in the heat haze. Lizards scamper fitfully about the rocks, and if you glance up, you might be lucky enough to spot a golden eagle wheeling overhead, like some ominous outtake from a Sergio Leone movie.
Paklenica once had a career moonlighting as a lookalike for the Wild West, serving as the location for one of the most successful Western movie series of all time, albeit one little heard of in the English-speaking world. The German Winnetou movies of the 1960s saw steam trains, frontier towns and Indian camps all imported to what was then Communist-era Yugoslavia, with local comrades enlisted as cowboy extras. Fifty years on, coaches full of German tourists periodically turn up at Paklenica dressed in Wild West costumes to relive the shoot-outs of their childhood: estate agents playing outlaws, bank managers turned braves.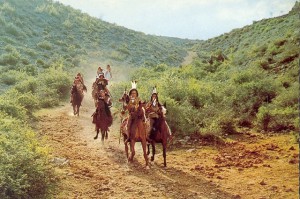 The frontier spirit has never quite left Paklenica. Rangers strut about the park entrance relating anecdotes about the park's dangerous wildlife with wellpractised indifference, warning visitors to be wary of branches where horned vipers are particularly fond of sunbathing. Recent years, however, have seen a new set of pioneers come to the park. High up above, Spiderman-like climbers shimmy up the cliffs, scaling walls of rock that lean forwards at baffling angles. Each route is named by the first person to ascend it, and it seems that much of Paklenica was conquered by a Fleetwood Mac fan; Black Magic Woman and Albatross both look equally impossible.
'You don't get scared' says Marta Gozdz, a Polish doctor preparing to scale a cliff-face with the dimensions of a minor skyscraper. 'You feel that the rock is looking after you, and that it won't let anything happen to you. Sometimes you feel you aren't even climbing, just dancing with the rock…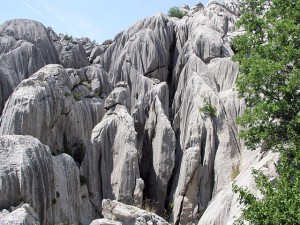 Let us take you on a trip to this true natural beauty.. Paklenica