There are many good sides of this city, but there is one that makes it exceptional! Not many cities can brag with clean city beaches, but Split can! Thanks to its position on a peninsula, Split has northern, southern and western shores. Unfortunately, northern shores of the city are mostly industrial facilities.
On southern and western shores you can find parks, residential areas and tourist facilities with accommodation, clean beaches, night clubs,  museums, ferry port etc. There is a true Mediterranean spirit of the town! Let me take you on a tour trough the most popular beaches of Split…
Bačvice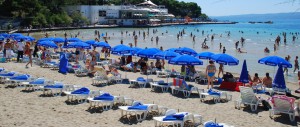 Bačvice , a very popular and famous sandy beach. It is interesting that Bačvice beach is located in the center of the city. The distance is about 10 to 15 minutes of walking from Diocletian Palace. Although is a city beach it still has a blue flag; award for cleanest and most organized beaches in Europe! In the summer period the beach can be very crowded with local population and tourists. The sea on Bačvice beach is very shallow. Because of that and because of fine sand you will see a lot of people a playing a traditional game of picigin – originating from Bačvice.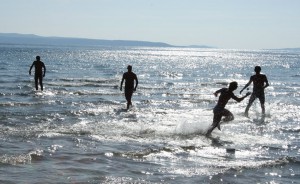 The rules are simple – few people positioned in a circle must maintain a small ball in the air as long as possible. Look around how locals plays and try it yourself! Beach Bačvice (as most other beaches) has few watch towers with guards overlooking beach and intervening if there is need for it. On the beach are several coffee bars; you can rent beach chairs and sunshades.
Beach Bačvice is also a very popular party destination in Split. There is lot of night clubs and in the summer you can see more young tourists in those clubs than locals. Check out for summer night beach parties!
Ovčice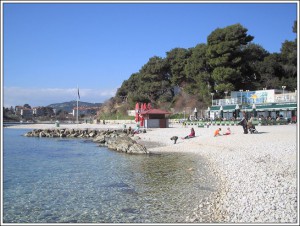 5 minute walk from beach Bačvice there is a bay called Ovčice beach. Ovčice is a much smaller pebble beach and it is also popular for locals and tourists. Here you can also rent a beach chair and sunshade, you have showers and there is a small playground for children with trampoline and few swings. On the beach there is a restaurant.  Above the restaurant is parking space in pine tree forest but it could be crowded during summer.
Firule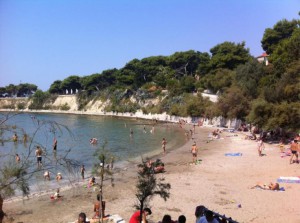 If you continue your walk from Ovčice, after 5 minutes you will find yourself on a second sand beach, Firule . This beach is popular  among families with small children because it is shallow, but not as crowded as Bačvice. There you can not rent chairs and sunshades but you have a shower and coffee bar on the beach.
Trstenik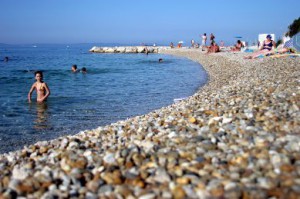 Next one on the way is Trstenik, a pebble beach with shallow entrance and suitable for families with small children. Sea is crystal clear. The beach has showers, changing rooms, watch towers, and beach chairs for rent. Unfortunately there is no natural shade, but there are few beach bars where you can stay in shade and refresh yourself with cold drinks.
Žnjan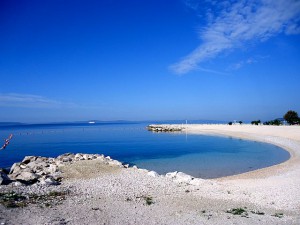 Žnjan is also a very popular beach in Split and so far the largest. The beach consists of several separated bays, in fact several beaches, stretching almost 1 km. Žnjan is mostly pebble and rocky beach but it has one sandy beach. It is a very popular location because it is so big, has enough parking space and brilliant sea. Beaches have showers, changing rooms, watch towers and lot of beach bars where you can enjoy during day and night. Eastern part of beach has accessibility for the disabled.
Ježinac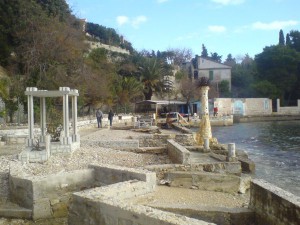 Ježinac is the first of few beaches located in western part of Split , more precisely under the Park Forest Marjan. Those beaches are located in district Meje – elite part of city that is quite isolated from the city noise, apartments and villas built between pine trees of hill Marjan with sea view and often very luxurious.
The beach Ježinac is a pebble and concrete beach with a natural shade under the pine trees. You can also jump from few meters high rocks in to the sea. Beach has changing rooms, watch tower, showers and concrete tables where you can sit and play cards, board games, eat… The beach is 3 km west from the city center.
Kaštelet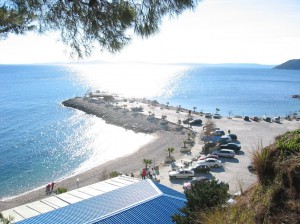 Few minutes from beach Ježinac is another beach called Kaštelet or Obojena Svjetlost (colored light). This is a nice pebble beach and mostly young people come here. During the hot summer nights few beach bars on Kaštelet turn the beach into the popular party location. That's why the Kaštelet is also known as Obojena Svjetlost (colored light).
Kašjuni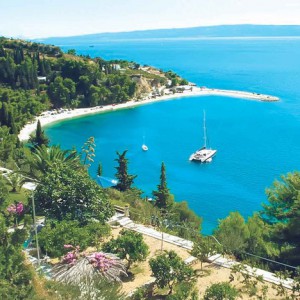 From beach Kaštelet you will need to drive about 5-10 minutes to the west along pine trees in district Meje. The beach has spacious parking place, showers, changing rooms, coffee bars, watch tower as all other beaches in Split. But this beaches is partly pebble, partly sand, and partly rocky and it is the largest beach on west bank of city. It is popular among locals, tourists, young people and families.
Bene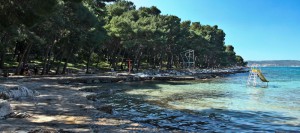 Bene is a beach located out from resident part of Split in western bank of park forest Marjan. You will see thick pine forest park with playground facilities for tennis, football, and other sports. Beach itself is concrete but entrance to the sea is pebble or sand. As all other beaches this one also has changing rooms, showers, beach bars, but still it is different because its thick pine forest and Bene is mostly overlooking to the west and partly north so you can see Kaštela, Čivo and Trogir.