The Great Green of Cetina
How to write about something if all of it, but really all, was and is utterly perfect? How to start? How should I now introduce you to the river Cetina?
What is your favorite color? When I was a kid, I would rap out 'Blue!', while for other girls it was, of course, 'Pink'… The rule which still holds true today. The blue Adriatic, the blue sky, the deep blue sea, blue jeans, blue-eyed boy, blue cheese, blue blood, blue skies. So you can see, it's all blue, even that jazz refrain goes something like this: Sun, sky, you and I, and all blue…!
And so we continue to promote our beautiful sea, people who do that have obviously learned their trade well, and as things are now, once more they happened to be right about blue colour, obviously, a new record season is behind us. Tourists had the time of their lives while our portfolios are overflowing with money. Happy end! Happy blue! And here beyond the hills it's all somehow the other way round! It's not that we're not fans of blue, but here green is dominant after all. Yes, green indeed! Green in all shapes and sizes, so calming and relaxing that the best thing is stay silent and write nothing! Perfect tranquility!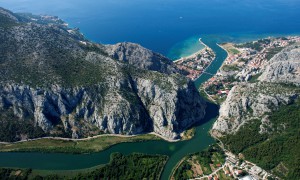 Rowing now to the left now to the right, now starboard now port, and then right the helm, anyway, after some two hundred strokes we had already learned the ropes. And yet the Cetina! Now she's narrow and now she's wide, now she's wild and now she's gentle. The play of sunlight across the water surface, her green banks and the willow groves, this, my folks, simply takes your breath away. You could just row and row again, looking at those green shades, listening to the river and admiring her beauty and power. So powerful, and clean and beautiful, and yet so delicate and only ours! Perfect! It's no wonder that the Cetina has been so many times praised, no wonder that our ancestors defended her with so much ardour from conquerors, she is our true nursing mother, it is the water of our lives. And today she has showed it all to me! The natural world on her banks is so clean and diverse, on the one hand the karst hills shadowed by pine trees, and on the other a wide, richly cultivated field in the shadow of poplars and willows. Here and there you come across a flock of sheep or a herd of cows, or even a donkey – our dear tovar! All of this the Cetina offers to every well-meaning person, traveler, dear guest!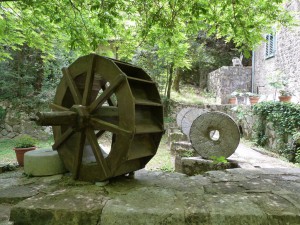 Most beautiful man-made ornament to the Cetina are certainly – mills. The most famous in the Cetinska Krajina are those in Grab on the namesake river, also a tributary of the Cetina, and, naturally, the most famous and a popular destination are the Radmanove mlinice (Radman's Mills) near Omiš. As for the upper Cetina, in the best condition are the mills at Han, in the past owned by the Sinj family Tripalo and today by the Milardović family. I had an opportunity to visit them more than once, they're over hundred years old, and they work as if they started yesterday. Nowadays, maize and wheat may not be ground in quantity as a long time ago, but the smell, the taste and quality of the flour and the dishes – well it's something you'll have to taste yourselves. Go out of your way, it does make sense! Anyway, almost all of well-to-do families in the past used to have a mill or at least a millwheel, unfortunately, some of the mills are sunken, some of them haven't withstood the ravages of time, whereas the others have been kept alive only on paper or in legends.
And the water. Emerald green and pleasantly cool! Each blade of grass, each stone, old trunk and a fast-swimming trout here and there, you can see all of this from a dinghy. Mills, water mills, fish ponds, hidden backwaters, neat villages on her banks, oh my…how wonderful! Believe me, it's no easy to write this, in fact, I think that what I'm writing is pure nonsense, but who hasn't been there and seen it, has no right to comment on it at all!
My dear folks, when you get bored of packed beaches, salt, sea fish, fisherman's parties, klape all over the place, fishing nets, leut fishing boats, ferries, the crack of dawn, the deep blue sea, when you feel like you need a change, when you feel like listening to the river talking, fresh air, the unspoiled nature with its great diversity of life, when you feel like you need peace and tranquility – come and visit the Cetina! Who knows how much you've already drunk its water without being aware of it.