WINTER IN CROATIA – FIVE THINGS TO PLAN FOR
Here's a list of five things to put on your to-do list if you're traveling to Croatia this winter.
Christmas markets
If you've ever been to Europe during the holidays, you've likely experienced the joy of Christmas markets. The drill goes a little something like this: find a stand selling kuhano vino (see below), buy some red and wrap your fingers around the steaming cup, sip slowly as you wander through rows and rows of little booths selling seasonal candies, licitar hearts, Christmas ornaments, pouches of lavender, wooden toys, and other homemade goodies that make for excellent souvenirs.
You might encounter a sausage stand or two. Grab one to munch while you stroll, then fill up your cup once (or twice) more.
Kuhano vino
Kuhano vino, literally "cooked wine," is Croatia's answer to the cold-weather call for mulled wine. If you're unfamiliar with mulled wine, you're missing out. It's essentially wine simmered with sugar or orange juice and mulling spices – usually a combination of cinnamon, anise, cloves, nutmeg, cardamom, allspice, and dried fruit peels. Red (crno) varieties are most commonly mulled, but in Croatia you'll also find white (bijelo) mulled wine.
Once the temperatures drop, kuhano vino crops up everywhere. A sure shot will be a Christmas market or any outdoor event, like those put on during Advent in Zagreb or Split.
Advent in Split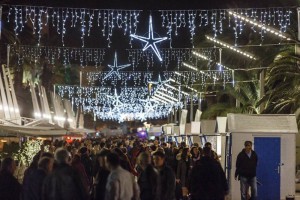 Join people from Split and from around the world at the Christmas Fair! December in Split is a special time of the year. With average temperatures of around 15 degrees Celsius, Split is a city that lives on its streets and squares. Its main seaside promenade bursts in Christmas Fair, with stalls filled with traditional produces, music, food and drink, providing all-day entertainment. Every night, Fair is a stage for concerts, folklore performances and parties, and same expects you elsewhere around this old, but life-filled city.
Advent in Split is not just a time of year. It's a way of life.
Advent in Zagreb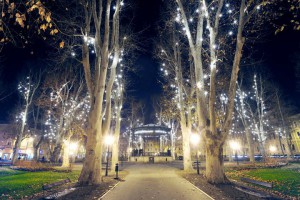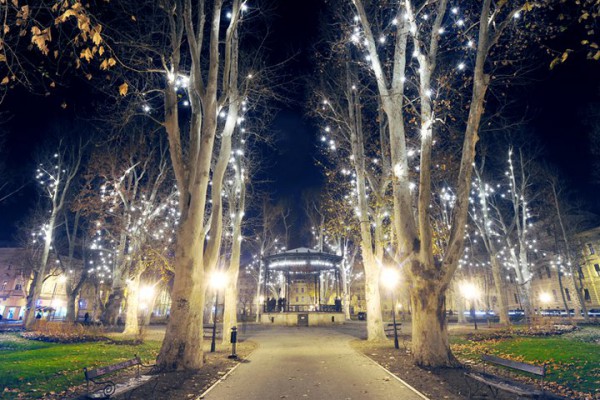 Advent in Zagreb is the capital's big holiday event, lasting several weeks from late November to early January. On just about every square in the city, including Trg bana Jelacica (the main square), Britanac, and Zrinjevac park, bands set up every night to play a few tunes under twinkling Christmas lights. There are, of course, cash bars where you can buy kuhano vino to keep you warm.
Kids will enjoy the Jolly Christmas Tram commandeered by Santa Claus. The trip through the city center takes about a half an hour and embarks from the corner of Praska Street and Trg bana Jelacica.
The only downside of Advent in Zagreb is that everything looks a little more kitsch than usual. Expect lots of multicolored lights shaped into various holiday-oriented symbols, like holly and Christmas ornaments, strung above the streets, along with big, plastic tents housing food, drink, and Christmastime trinkets. Cheap holiday decor aside, Advent in Zagreb events are worth braving the cold for.
Urban ice skating
How about some ice-skating during the holiday season in Split? The sky might be crystal clear these days, but it's still winter time.
Municipality of Podstrana, halfway between Split and Omiš, is offering an ice-skating rink, starting December 15, as a gift for holidays. They called it "Christmas Fairy Tale", and with weather like we have it in December, it surely is a fairy tale. The rink is open-air, settled on one of the terraces in Le Meridien Lav, and will be operating until January 15.
While kids will skate around, parents will have an opportunity to enjoy local traditional produces. Also, several theatre plays for children are expected, and Santa Claus will be a regular visitor
In recent years, the reemerging trend of open-air urban ice skating has taken off in Croatia. In Zagreb, temporary rinks have been installed in front of the historic Regent Esplanade Hotel facing Glavni kolodvor (the main train station) and Trg kralja Tomislava, on Trg bana Jelacica, and the woods of Tuskanac. Usually the rinks open to ice skaters in December.