Prague public transportation – how to navigate Prague like a local
Prague has one of the best public transportation in Europe. It's relatively cheap, fast, well connected, on time and easy to navigate.
Download the Prague public transportation map
May I suggest that you do this on your phone so that you always have it with you 🙂
Download the Prague public transportation orientation map
Download the Prague NIGHT public transportation map
Transportation tickets are valid for Metro, Tram and Bus lines.
Prague public transportation prices:
Ticket/Pass type
Adult
Child (6-15 years old)
Basic Ticket (90 minutes)
32 CZK / 1.20 €
16 CZK / 0.60 €
Short-term (30 minutes)
24 CZK / 0.90 €
12 CZK / 0.45 €
1 day (24 hours)
110 CZK / 4.00 €
55 CZK / 2.00 €
3 day (72 hours)
310 CZK / 11.50 €
310 CZK /11.50 €

(no discount)
Where to buy tickets
Vending machines

In every metro station
On some tram and bus stops

Tobacconists and wholesalers (almost any smaller shop will have them)
SMS tickets

Send an SMS to 902 06 with the content:

DPT32 (basic ticket)
DPT24 (short term ticket)
DPT110 (1 day ticket)
DPT310 (3 day ticket)

You will receive the SMS ticket in approximately 2 minutes (no last second SMS tickets :D)
The ticket will be in Czech language XD
Should you buy a ticket
Absolutely! They enforce this by having a lot of inspections controlling the validity of tickets (don't gamble, it's not a good bet :))
The penalty is 800 CZK (30.00 €) for riding without a ticket
This is the badge that the inspection officer must present
The best way to plan your trip using public transpiration
go to dpd.cz
Find the nearest station from your start location
Find the nearest station from you end location
When you click "Search" it will show you the fastest connection paths (for example, take the Metro line "B", change here, then take the Tram 24, etc…)
It's fantastic!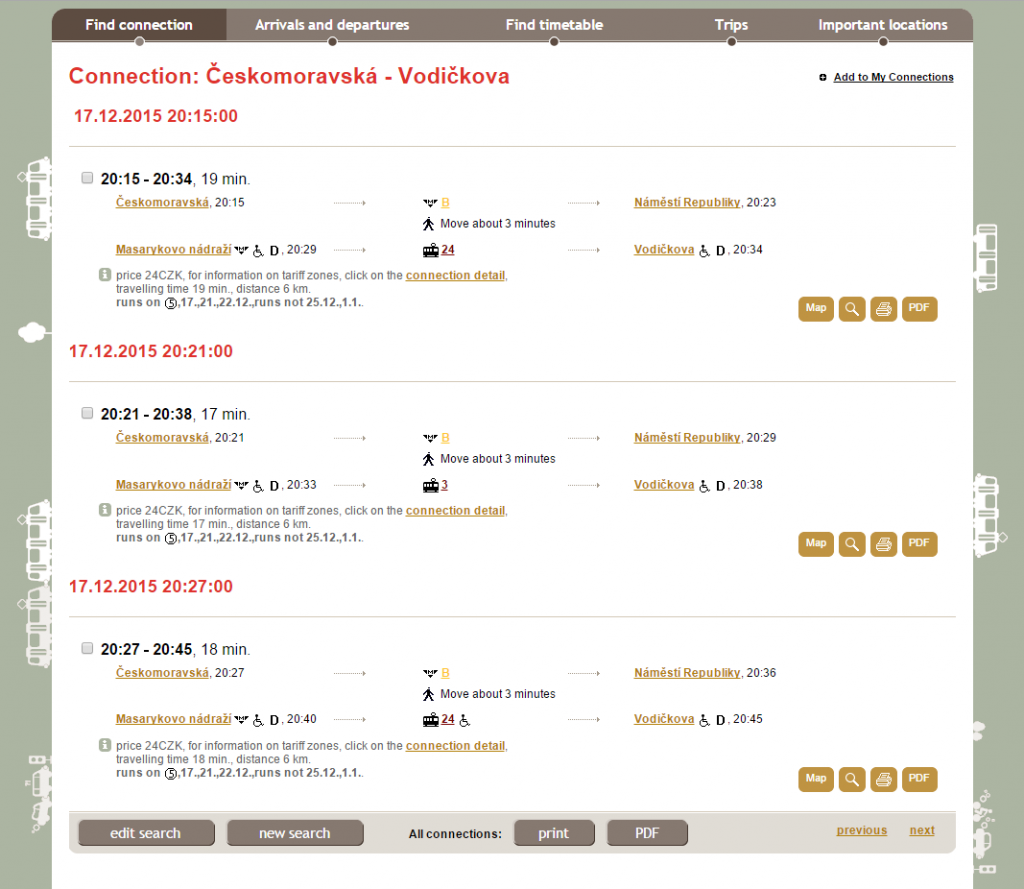 Night public transportation
The last Metro closes around midnight  and opens around 4:30. In this period you have night tram and bus lines that go every 30 minutes (check you night connections on the link above).
How to figure where to go when you didn't plan your trip in advance
Every tram and bus station has a stand with timetables that look something like this. I listed all the important information that are available on the time table. By understanding this table, you will know exactly which tram line will take you to your desired station, when it's the next tram and how long the trip will take. As mentioned before, they are surprisingly accurate.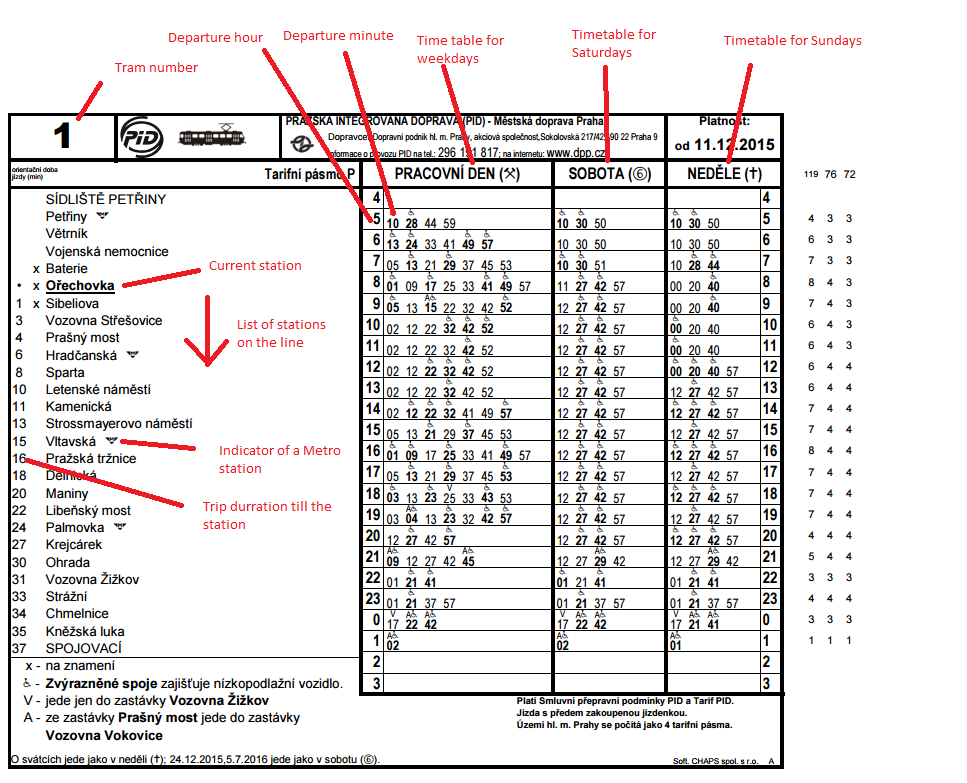 In the end, it's pretty simple, you'll understand everything after you get lost a few times 😀 Just kidding! Also in my experience, people in Prague are quite friendly and they will gladly help you out if you ask (and aim for younger people, they tend to speak better English :))
Ukončete, prosím, výstup a nástup, dveře se zavírají!
You'll know what I'm talking about once your ride the Metro in Prague.
Have fun!
Do you have any other tips about public transportation in Prague? Did you pay a fine because your ticket expired? We would love to hear it from you 🙂
P.S. Be aware of pickpockets!