Split Is One Of Top 10 Cheapest Tourist Cities in Europe
With the dollar so strong at the moment, more and more Americans will be looking at Europe for a summer vacation this year, and Croatia is definitely coming more onto the radar of the American tourist.
Split's attractiveness was given a  boost few weeks ago with its inclusion in the Price of Travel's Europe 3-Star Travel Index of 56 popular tourism cities, coming in at the 10th cheapest. According to the Price of Travel:
For this 2015 edition we added Split, Croatia; Ljubljana, Slovenia; Bergen, Norway; Salzburg, Austria; and Cesky Krumlov, Czech Republic. A few of these cities are fantastic bargains, especially now, so they deserve serious consideration of anyone planning a Europe trip in 2015.
Costs for each city (based on two sharing a room/taxi)
One night in the cheapest 3-star hotel available with a desirable central location and mostly positive reviews. Hotel prices are per person based on double occupancy, so the full nightly rate is double what is listed for each city here.
Two 3-kilometer taxi rides per day (one ride paid per person)
One cultural attraction, such as a popular museum, per day
Three meals per day using the top end of the range of our "budget meals" for each city
Three beers (or wine) each day as an "entertainment fund." Non-drinkers might have dessert and coffee or attend a local music performance instead, so this is a general benchmark that should be proportional for each city.
Split came in at 419 kuna or US$62 a day.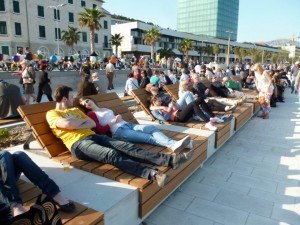 Split's West coast & Riva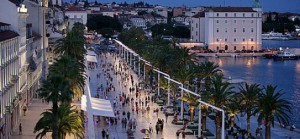 Here's what they had to say about Split:
While Dubrovnik is the focus of most Croatia itineraries, the city of Split is just as impressive in most ways, and it's also far cheaper and easier to reach. Better still, Split is a living city where locals fill up most restaurants and bars, making it feel far more authentic and less touristy. Hotels here can be bargains by European standards and the islands nearby are also well priced by comparison.